Lightform is a San Francisco-based startup that originally spun out of Microsoft (see my post from 2017) that is exploring interesting new applications of projection mapping technology.
They've recently released a very impressive demo that combines a ceiling-mounted steerable projection system with a camera vision system and a bunch of the usual smart home stuff. Certainly it is an impressive demo, but such complex integrations are never practical in real life, widespread applications. The amount of commissioning and configuration required to make this work is enormous.
But I really appreciate the design concepts they've laid out on their site – which are broadly applicable to not just to projection mapping, but to the entire challenge of using the built environment as a portal to the virtual world.
The tech prototyping video they posted is quite interesting, too:
Some beautiful industrial design for a ceiling mounted version of a steerable projector:
And last but not least, the impressive software they've developed for automatically scanning a space and mapping onto the available surfaces:
This stuff all reminds me of the old High End Systems Catalyst mirror head for projection units from sometime around 2000!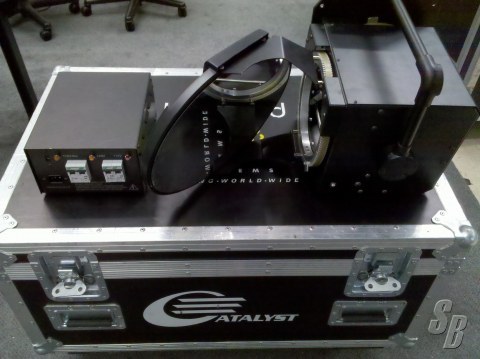 I've found that over the years, great web content unfortunately vanishes, so for posterity sake I did a webpage capture of their Devices and Design Principles pages and posted in as images below.